The 1980's saw the advent of new wave music and electronica. The world may have left big hair and parachute pants behind, but the music of the age has never gone away. Bands like U2, Duran Duran, Depeche Mode, Blondie, and OMD (Orchestral Manoeuvres in The Dark) continue to refine the spirit of the 80s with their dance-inspiring beats and high-energy personalities. Sold out crowds pack their concerts to hear their favorite songs and get a glimpse of their musical heroes. Turn on any popular radio station, such as Jack FM (KCBS-FM), or Sirius XM's 1st Wave, and you will likely be welcomed by the energetic music of both traditional 80's dance music and alternative classics.
Today's music scene would be very different if people like Richard Blade had not helped those 80's acts find a place to share their music.
Andy McCluskey, the front man of OMD, had this to say about Blade's role in the growth of his own band:
"Richard Blade is understandably synonymous with British New Wave music in the USA, and for OMD he is indelibly connected with our career in the States. We have been perennial fellow travelers on a musical journey. From our earliest visits to KROQ where he interviewed us and played our records as an alternative pop import, through our biggest hits of the mid-eighties, and to the present day playing our 'heritage' tracks and also new songs on digital radio. I saw Richard's depth of influence," continued McCluskey, "and the love and respect with which he is viewed when my own Californian friends were visibly moved upon meeting him a few years ago, explaining that he had personally provided the soundtrack landmarks to the most formative years of their lives. The positive voice, using music as his catalyst, to guide them through the best and sometimes worst of times. A generous and kind man in an industry not usually associated with either quality."
Blade, born in England, was the voice for the music scene of the 1980s. From his DJ booth at KROQ in Los Angeles, where he was the top-rated morning drive DJ, Blade interviewed and showcased bands, such as OMD, The Police, Culture Club and more, injecting American radio with the British new wave.
Richard Blade has continued in his career making waves in radio, TV and directing, including hosting the syndicated TV shows MV3 and Video One. He also co-starred in the hit movie "Girls Just Want to Have Fun" with Sarah Jessica Parker and Helen Hunt, and has won many awards, including The Golden Microphone, California's Best DJ and the ADJA Lifetime Achievement Award. Blade is currently heard nationally every day hosting 1st Wave, on SiriusXM Ch. 33. Blade's latest career move is his autobiography World In My Eyes, which released this past November, and quickly became a National Best Seller, showing again that 80's music is here to stay.
Simon Le Bon of Duran Duran had this to say upon hearing the news of Blade's autobiography: "I just want to say thank you, Richard Blade, you been with us since the beginning and since those magic moments in the Magic Castle, and you're a face that I always look forward to seeing when I come to Los Angeles. Can't wait to read about Duran Duran in your book."
While it is no secret that Richard Blade has led an intensely influential life and career, friends like Billy Idol sum it up eloquently, "Richard was the British blade that cut through the state of US radio and TV in the 80's. He personally supported me when many others didn't believe or couldn't accept the new sounds and styles of fashion and music pouring out from the bruised and battered psyche of young people in those days. Richard has gone on to a varied and long lasting career that still evokes the era we all came from, all power to him and long may he rock on."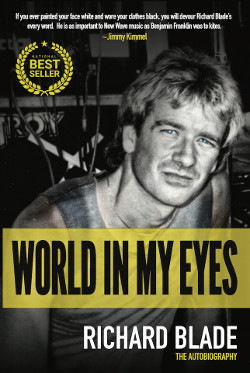 The 80's will never leave us, and judging by the enthusiasm of fans packing stadiums for bands like OMD and Depeche Mode, and buying books such as Blade's, they wouldn't have it any other way. "World In My Eyes" is an uninhibited tell-all look at Blade's life as he moved through the music and entertainment industry. This unique insider's story encompasses more than just one decade, and pays homage to those formative years that paved the way for icons who thrive in today's cultural climate.
World In My Eyes is available for purchase at Amazon, Barnes & Noble and here on our website.
For more information about Richard visit his Facebook page!